Spill Hound - Absorbent System
Spill Hound is a new and innovative way to deal with various types of spills including: oil, diesel, emulsion/semi aqueous fluids, paints and inks - in the workplace or on roadways or motorways. Stored in the 'Wheelie Bin' styled recycling centre. The kit comes complete with a tool set, which includes one broom with two separate brush heads (to suit different floor surfaces, one shovel, once recycling filter and two 30L tuff bags of absorbent material.
Totally portable, it can be wheeled to the area a spill occurs rapidly and easily, where it will quickly, safely and economically lift the spill - leaving behind a clean, dry floor which eliminates any potential slip hazard when compared to the 'slick' that can be left behind when clearing up with the more traditional, clay based, absorbents.
Being virtually dust free, it is safer than 'kitty litter' - which may contain potentially harmful dust. The cost effectiveness of this system is demonstrated during use as you only need to dispose of the oil spill itself, which becomes encapsulated, or 'trapped', within a relatively small amount of absorbent material. This means there is less waster material for the landfill and less disposal of using these facilities.
Derived entirely from renewable sources, Spill Hound is definitely a revolutionary step away from the 'kitty litter' method of dealing with spills and WILL save you money and time, guaranteed!
FAST - When compared with conventional clay-based absorbents (kitty litter style) Spill Hound is approximately 5 times faster to achieve a safer floor surface
EASY - The Spill Hound Recycling Centre provides everything you need to handle an oil spill. The centre is mobile and easily deployed to the spill location.
ECONOMICAL - In controlled comparative laboratory tests between clay-based absorbents and Spill Hound, a measured oil spill required 33 times more clay absorbent than Spill Hound in order to clean up the spill.
RECYCLABLE - Spill Hound is typically used between 6 and 8 times before it is finally exhausted. The Spill Hound Recycling Centre incorporates a recycling filter which allows all unused Spill Hound to be re-used.
ENVIRONMENTALLY RESPONSIBLE - Due to the small amount of Spill Hound required to clean up an oil spill, considerably less waste material is generated. That can mean LESS landfill and LESS waste disposal charges.
ABSORBS - Many fluids including FUELS, OILS, EMULSIONS/SEMI-AQUEOUS FLUIDS, AROMATICS (BENEZOIDS and NON BENZENOIDS), ALCOHOLS, KETONES and many other liquids, including OIL BASED PAINTS and LACTATES.
Laboratory Tested and Proven...
A laboratory comparison of the relative oil spill cleanup efficiencies of Spill Hound® and Kitty Litter...
Two identical ‑ floor surfaces (concrete substrate, with epoxy paint top coating) were marked out and contaminated with 100g oil spillages. Spill Hound® and Kitty Litter were added to their respective spillages until a clean, non-slip surface was achieved. In the case of Spill Hound®, a further recycling step was possible to recover unused Spill Hound®. In the case of Kitty Litter, no recycling step was possible. The time for cleanup was also recorded.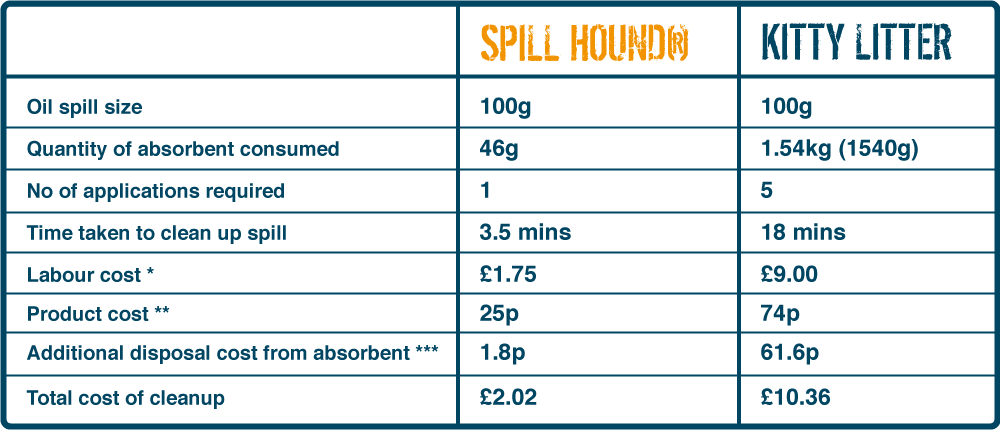 It is accepted that the spilled material, when combined with the absorbent used for cleanup, will be classified as a hazardous waste. Spill Hound® reduces not only the cleanup costs but also reduces the disposal costs.
33 times less Spill Hound® used than Kitty Litter.
33 times less hazardous waste produced.
33 times less waste disposal cost.
Less than one fifth labour cost.
*Total labour cost estimated at £30.00 per hour, including company overheads. **Product cost estimated at £5.50/kg Spill Hound® and 48p /kg Kitty Litter. ***Oil-contaminated waste does not comply with WAC and must be treated before disposal. Treatment and disposal costs estimated at £400.00 per tonne
Contact us for prices and more info on this product...