New Pig® Haz Mat Acid Absorbtion
Capable of absorbing the widest range of acids, caustics and unknown liquids, the pink Haz Mat immediately alerts workers to hazardous spillages and offers rapid absorption of spills. With unrivalled performance, Haz Mat will withstand high concentrations like 98% sulphuric acid or 30% sodium hydroxide, offering excellent protection in chemical production industries, environments using chemical processes, plastic or rubber manufacturing and public service spill response teams.
Haz Mat is available as pads, rolls, pillows or socks and in a variety of pack sizes.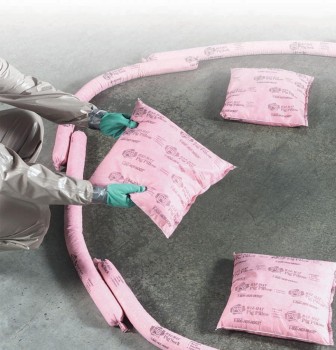 Contact us for prices and more info on this product...